About Uni-Tat Ice and Marketing
Uni-Tat Ice and Marketing is a premier ice distributor with a proven track record in quality of products and delivery services. Uni-Tat has developed a strong and undeniable presence in the industry over the years, and now produces more than 500 tons of ice daily on a 2.5 acres modern ice making facility.
Our ice products are marketed under the brand name Iceman, and is conveniently packaged and customized according to our customers' needs. Our ice is delivered to all locations on the island, 24/7.
We specialize in refrigerated logistics and provide transportation services of temperature sensitive products. Utilizing a fleet of trucks equipped with modern refrigeration systems, over 60 Iceman trucks ply the streets daily, to ensure prompt and on-time delivery of ice and other frozen/chilled products, such as frozen seafood, ice-cream and vegetables.
We have been servicing events such as Army Half Marathon, Standard Chartered Marathon and OCBC Cycle yearly, providing both drinks and ice logistics.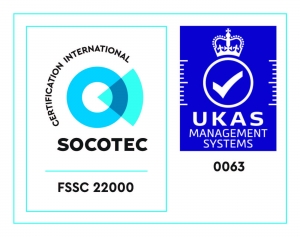 Uni-Tat is certified under the internationally recognized FSSC 22000; a natural result of our strong dedication to product quality and service.
Our food grade ice is produced under stringent food safety standards. We strive to provide the best logistics service to ensure the refrigerated products reaches our customers on time and in the highest quality.
In our modern times when iced drinks are available on even the hottest of days thanks to our modern technology, it is hard to imagine a time when perishable produce such as fruit had to be consumed immediately after it ripened. In the past there was no such thing like refrigeration, so on a hot day, there was no one to sell you a cool drink, for there was none to sell.
There was a great man who had made the availability of ice all year round regardless of where you are by inventing ways to transport and export ice to faraway places. Frederic Tudor began the evolution of the ice trade. In New England, there were ice on ponds and rivers every year, ice that uselessly froze and then melted as the seasons changed and there were tons of it (free!).
It was Frederic Tudor who was the first in history to come up with the innovative way to make money by exporting ice, a valueless product in New England, by harvesting ice from lakes and rivers. This man began to develop ways of cutting and storing ice for shipping (without refrigeration) to the warmer regions of USA and later to other parts of the world including Singapore. It was a rather amazing fact that Tudor was able to ship and store large masses of ice without refrigeration.
This was probably made possible by his perseverance to find an efficient and unique way to store and handle ice for export. The first person in Singapore who imported ice from Tudor was Whampoa Hoo Ah Kay (the pioneer of the ice trade industry in Singapore) which was apparently about 150 years ago. Whampoa imported Tudor famous New England ice and put it in storage in his icehouse at Clarke Quay.
By 1846, Tudor had managed to export 65,000 tons to destinations such as Singapore, the Philippines, China and South America. By 1856, Tudor managed to export 146,000 tons of ice shipped from Boston, a significant increase in the volume of ice exported. This successful great man was later bestowed with the honour of being known as the "Ice King".
He managed to transform the dining habits of people around the whole world by making iced drinks available in restaurants, cafes, pubs and even coffeeshops at all times. By selling an easily available, free commodity – ice from New England's frozen rivers and ponds – to other parts of the world, however, Frederic Tudor eventually became one of the great American entrepreneurs of the nineteenth century.
Tudor had started the ice industry that generates employment (including Uni-Tat), created millionaires and entrepreneurs. The world is indeed grateful for the benefits gained following the introduction of the ice trade by Frederic Tudor. The "Ice King", held a monopoly on the ice trade for decades. He is definitely not a figure to forget in the ice trade!
Uni-Tat is responsible for the prompt delivery of ice and temperature sensitive products to thousands of customers across the island, 365 days a year.
We supply packaged ice to hawker stalls, coffee shops, pubs, restaurants, hotels, and leading supermarket chains, making it convenient for our customers to enjoy cool, refreshing ice anywhere in Singapore. Some of our customers includes: 7- Eleven, Cold Storage, Marina Bay Sands, Pan United Concrete, Cold Stone Creamery and Mr Bean.